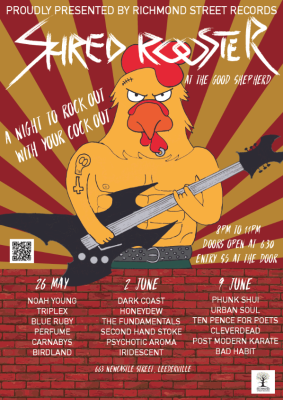 Hey you! Yeah you, where are you going to be on the 26th of May, or the 2nd and 9th of June? Wrong answer! Because on those nights, you'll be going to SHRED ROOSTER at the Good Shepherd!
SHRED ROOSTER is a live music event occurring on three separate days over three weeks, featuring every band from North Metropolitan TAFE's Diploma, and Advanced Diploma Performance courses.
Head to the Good Shepherd in Leederville at 7pm on each night to catch the first band starting their set. With only a $5 entry fee, why wouldn't you go?
Where: The Good Shepherd, 663 Newcastle St, Leederville
When: 26th of May, 2nd of June, and the 9th of June
Cost: $5 at the door
Facebook Event: facebook.com/events/1758111231111404/