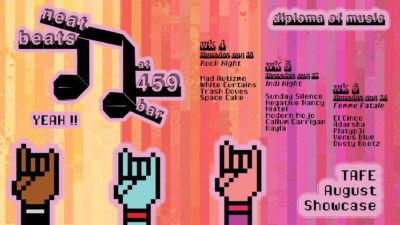 Kicking off this Thursday night, Richmond Street Records and North Metropolitan TAFE presents Neat Beats! Neat Beats is a showcase of Artists and bands from North Metropolitan TAFE taking place every Thursday night for the next three weeks at the Four5Nine Bar on Fitzgerald Street (next door to The Rosemount Hotel).
This week, we'll be showcasing some of the TAFE's heavier acts at the aptly named Rock Night. The lineup is as follows:
Doors open at 7:30 and entry is just $10. Food is available at the Rosemount 'Backyard' as well as drinks at the Four5Nine Bar. The Four5Nine Bar is an 18+ venue.