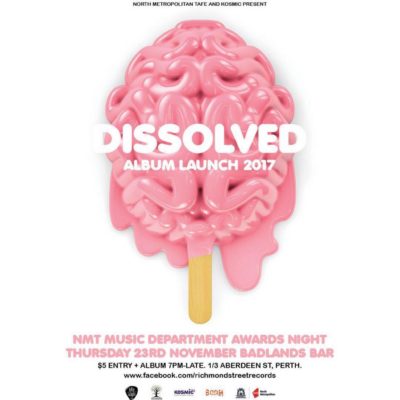 Richmond Street Records and North Metropolitan TAFE are proud to present a night of awards, live music, graduation festivities and the launch of their annual compilation CD, Dissolved!
Dissolved is a compilation of 14 solid tracks, ranging from soul, punk, country, folk, rock plus elements of rap. The compilation will be launched in Perth's Badlands Bar on Thursday 23rd November from 7pm-late. In tradition, the night will be a fine display of the newest and finest talent that Richmond Street Records has been nurturing since its inception in 2010.
The line-up will be a double stage extravaganza with 8 incredible acts performing on the night including
Main Stage :
Jo Rivas and The Citizens (Plus Anthony Lloyd)
Hasmatt
Trash Doves
The Stank Boiz
Beer Garden :
Tom King
Sunday Nights
Adarsha
K Ridge
Check out the Facebook Event Page for more details:
https://www.facebook.com/events/211288906080434
The Dissolved track listing is available along with a link to give you and exclusive preview of what to expect from the album. Check out the lead single 95 by Anthony Lloyd and much, much more! Come down for a night of fun and great music. Listen to the RSR annual compilation and check out the DISSOLVED 2017  tracklisting below!
https://soundcloud.com/richmondstrecords/sets/dissolved-2017
1: 95 – Anthony Lloyd
2: Find Yourself – Jo Rivas and the Citizens
3: Finding Time – Lying Strangers
4: Mushroom Pie – Space Cake
5: Run Run Run – Niatel
6: Honey – Holographic Moon Society
7: Alive – Sunday Nights
8: Strangers – Tom King

9: Lost – Adarsha
10: 5 Minutes – The Trash Doves
11: The Bus Song – The Stank Boiz
12: Gaze – Sunday Silence
13: The Balcony Song – Imperial Material
14: N.I.W. – The Mad Autizimo